In less than a month, many of you will be stepping through the doors of the Town Hall Theatre to take part in our 28th Season, graciously sponsored by Richard and Carol Seltzer. Our interns have begun arriving, final designs are being approved, and rehearsals begin on Monday for I and You. The work — and the fun — begins in earnest!
We introduced you to the casts of  I and You, sponsored by Cipora Brown and Steven Feiner, and the American premiere of Folk, sponsored by Jessica and Fred Olefson, in our last message. Now, we'd like to share news from the two shows in the middle of our season.
Skeleton Crew, the third in the cycle from playwright Dominique Morisseau's Detroit Trilogy, explores the hard choices facing Americans barely squeezing by. The New England premiere of this remarkable work is being sponsored by Karen and Charles Schader.
We are happy to announce that Daniel Morgan Shelley and Ami Brabson will be appearing as longtime friends and coworkers Reggie and Faye, and Margaret Odette and Christian Henley will portray the roles of the two younger workers on the line, Shanita and Dez. Awoye Timpo will be making her CTC directorial debut.
The New York Times included Skeleton Crew on its list of "6 Plays That Reckon With An Anxious America." It runs July 13-23.
Daniel Morgan Shelley and Ami Brabson
Margaret Odette and Christian Henley
---
We have already shared the exciting news that CTC favorite Joel Ripka is returning to our stage in Every Brilliant Thing, which is being sponsored by Rhonda and Carl Steeg. In a first at the Town Hall Theatre, we will be staging the second half of the season in the round — and no seat will be farther than five rows from the stage!
More than ever, Chester Theatre Company makes good on its promise of big stories in an intimate setting.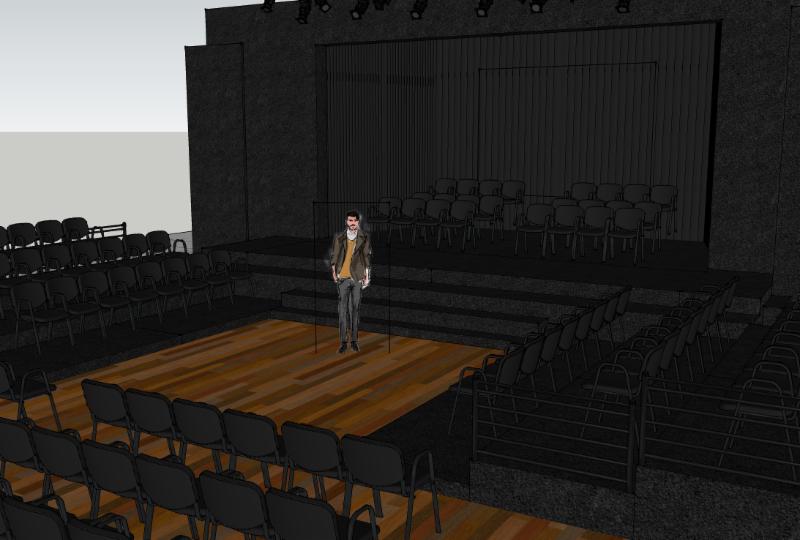 Designer Travis George's rendering of Every Brilliant Thing.
Tickets for all performances are on sale through our website by clicking here: www.chestertheatre.tix.com
Information on dates, times, and post-performance talks and events can be found on the website. Tickets are selling quickly — please consider placing your orders soon!